Deborah Odumosu
I finally watched Diana: The Musical and I hated it
The triumph life of Diana Spencer was created into an American musical with glamour, sadness and scandals.
Rating: 2.5/5
Okay, it is possible I was being slightly dramatic. Hate is a strong word, but I really do dislike how they represented the Princess of Wales, Diana. There have been many disrespectful, immature adaptations of the late princess but a raunchy musical really put the cherry on top. The music and lyrics were written by Joe DiPietro and Bon Jovi's David Bryan, which I was a little surprised to hear, but the incredibly literal dialogue and clearly American perspective on the events make much more sense knowing this.
The musical stirred up plenty of negative reviews after its release on Netflix. It started to become obvious that it would not last for long on Broadway. On top of this, due to the pandemic, tickets weren't really selling after the Netflix release. Like much of the public, I'd been avoiding it for a while, but I've been seeing a lot of American viewers on Twitter confused as to whether it's satire or had true and honest intentions of sharing Diana's story. With this, I had to throw my hat in the ring.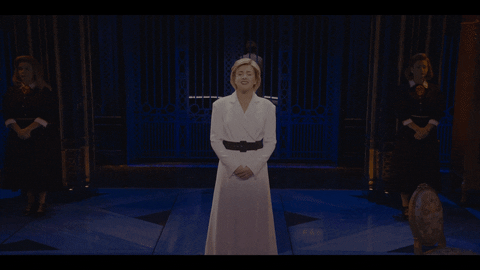 The show begins with 19-year-old Diana, played by Jeanna de Waal, at a party hosted by Prince Charles. She is approached by Camilla Parker Bowles (who we all know was the pillar of the relationship between Charles and Diana). Parker Bowles, played by Erin Davie, tells Diana that Charles is interested in her. This uninspired display of context comes across as if it had been added on right at the end of production because these things were somehow not made obvious by any other scenes.
Unfortunately, this 'last-minute' feeling recurs throughout the show – continuing from here the opening sequence 'Underestimated' sets an unbearable tone only 3 minutes in, littered with forced puns and extreme over-acting. The show's highly dramatic nature already establishes a severe lack of sensitivity and sucks away the effectiveness of any attempt to display a true emotion.
Twenty minutes of the musical is spent on displaying Diana's wild imagination during a date with Charles. The British press are portrayed as parasites (like always) towards Diana throughout, but with a mixture of New York, London, and French accents from the ensemble – the Londoners' accents especially were particularly poorly executed here. I appreciated the portrayal
of the press to an extent, as to how she was treated by them in reality definitely rings true here, however, this is a common trope and obviously massively generalises journalists.
I did enjoy the wedding scene because the on-stage quick-change magic left me mesmerized by how they achieved it. There are clearly experienced people involved in this production, but this is one of few examples where their hard work actually pays off. The song 'I Will' was fairly moving and I genuinely felt emotional over de Waal's interpretation of Diana's wedding jitters.
As the musical progresses it starts to feel stagnant. Musical tropes one after the other, followed by lazy songwriting and bad accents really started to wear on my patience. What caught my attention, though was the telling of the affair of Diana and James Hewitt; whether it was the risqué tone or the comedic release I did surely enjoy it. Act 2 somewhat gets better as Diana and Camilla have a singing ring fight over an average man. I will never understand the concept of two women fighting over a man's appeal, especially one who has been playing them both, but I guess it sells tickets.
The musical does eventually come across the iconic part of Diana's life, the revenge dress that we all know; the short off-shoulder black dress that made everyone turn their heads. Sadly, the musical decided to make a cringeworthy song, 'The Dress', which for some reason is still stuck in my head. Maybe it was the tacky rhyming words or having to listen to Charles' whingeing over and over again, but I couldn't take the musical seriously.
The musical eventually ends with Diana's death. She does this dramatic walk into the darkness while the cast watches on and the video grinds to a halt. Watching almost 2 hours of the musical was not as awful as I expected but was it a disgrace to the great musicals that came before it. There are so many jaw-dropping productions that deserved a spot on the Broadway stage for more than 'Diana: The Musical' but never saw that spotlight.
I suppose they expected this story to sell more tickets due to its international reputation, and I have no doubt that there are plenty of directors out there that could have done it justice. It would seem the actual skill, or lack thereof, of the musical's creators, was supposed to be overlooked in favour of Triple-A storytelling. The musical did indeed get its deserved awards for Worst Picture, Worst Director, Worst Actress, Worst Supporting Actress and Worst Screenplay at the 42nd Golden Raspberry Awards.